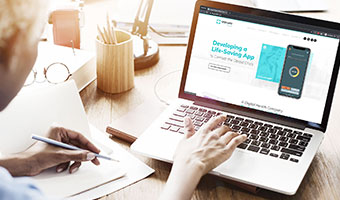 20 May

New Lifeguard App launched to help prevent overdoses


Vancouver – To help save more lives and ensure people who use drugs alone have access to the supports they need, the Provincial Health Services Authority (PHSA), in partnership with regional health authorities and Lifeguard Digital Health, is launching a new made-in-B.C. resource called the Lifeguard App.
The App is another tool in the province's tool box to ensure a comprehensive response to the overdose crisis in British Columbia.
"The launch of this new resource couldn't have come at a better time," said Judy Darcy, Minister of Mental Health and Addictions. "As we face down two public health emergencies – the overdose crisis and the COVID-19 pandemic – we must ensure that people who use drugs have the resources they need, when and where they need them. Knowing that the majority of people who use drugs use alone in shelters, hotels, or at home, in addition to the challenges of physical distancing, the Lifeguard App is a new and innovative approach that can directly link people to emergency responders if an overdose does occur."
The App is activated by the user before they take their dose. After 50 seconds the App will sound an alarm. If the user doesn't hit a button to stop the alarm, indicating they are fine, the alarm grows louder. After 75 seconds a text-to-voice call will go straight to 9-1-1, alerting emergency medical dispatchers of a potential overdose.
The Lifeguard App is now being added to the list of essential health and social sector interventions as part of the Overdose Emergency Response Centre's comprehensive response to the sustained and widespread overdose activity in BC. The App will be launched in regional health authorities in a phased approach between now and early June.
"This is a tool that specifically supports those who are most at risk of overdose death – people who use alone" said Susan Wannamaker, PHSA's Executive Vice President of Clinical Service Delivery. "PHSA is working hard with all our harm reduction experts and partners in government and regional health authorities to identify and implement innovative solutions to reduce the heartbreaking loss of life caused by this ongoing crisis."
PHSA, BC Emergency Health Services, Vancouver Coastal Health, the Overdose Emergency Response Centre and other regional health authorities have been working closely with Lifeguard Health during the past two years to test and pilot the App in controlled environments.
"We have been working on this life-saving application for over two years to ensure it will effectively help to reduce some of the harm caused by the overdose crisis by enabling drug users to be active participants," said Jeff Hardy, CEO and founder of Lifeguard Digital Health.
"BC Ambulance paramedics and their firefighter first responder partners are often first on the scene when people overdose alone, and they see the devastating impact, so that's why we said an enthusiastic yes to testing out this App during the past two years," said BCEHS' project lead Neil Lilley.
People who use drugs are encouraged to use with a friend and to use overdose prevention services and supervised consumption sites where they are available.
The Lifeguard App is an integral part of A Pathway to Hope, B.C.'s roadmap for making mental health and addictions care better for people in British Columbia. Implementing A Pathway to Hope is a shared B.C. government priority with the BC Green Party caucus and is part of the Confidence and Supply Agreement.
The Lifeguard App can be downloaded at both the App Store and Google Play.
The Provincial Health Services Authority (PHSA) plans, manages and evaluates selected specialty and province-wide health care services across BC, working with the five geographic health authorities to deliver province-wide solutions that improve the health of British Columbians. For more information, visit www.phsa.ca or follow us on Twitter @PHSAofBC.
Lifeguard Digital Health creates digital health solutions (applications) that reduce harm, prevent involuntary deaths, and improve quality of life. The company integrates technology innovations on its evan platform, including artificial intelligence (AI), internet of things (IoT), permission blockchain, and informatics. Complying with the highest levels of security and privacy regulations, it works closely with health authorities and emergency health services. For more information, please visit www.lifeguarddh.com. 
---
Provincial Health Services Authority and BC Emergency Health Services
Media Line: 778 867 7472
Ministry of Mental Health and Addictions
Media Line: 778 698 8252
LifeGuard Digital Health
Media Line: 778 823 0040
Email: [email protected]